Piracy audience data reveals consumption patterns that can vary greatly dependent on genre, country and media type. This article highlights some of the trends observed by MUSO's insights team in our most recent TV piracy audience data.
The last season of Game Of Thrones (Season 8) was released in 2019, interestingly MUSO measured an increase in popularity amongst piracy audiences during May 2021. The majority of audiences in North America, Latin America and Western Europe viewed the title via unlicensed streaming sites, whereas audiences in India, The Philippines and Pakistan predominantly download the title via torrents.
Game of Thrones. Torrents & Streams May 2021. Data from MUSO.com
Amazon's 2021 animated TV show Invincible is the most popular TV show in MUSO's May piracy data. MUSO has measured 8.5 million unlicensed views and downloads since its release in March 2021, with piracy demand increasing by 15% in May compared to April.

84% of global piracy consumption for this title was via unlicensed streaming sites, with the United States showing the highest demand.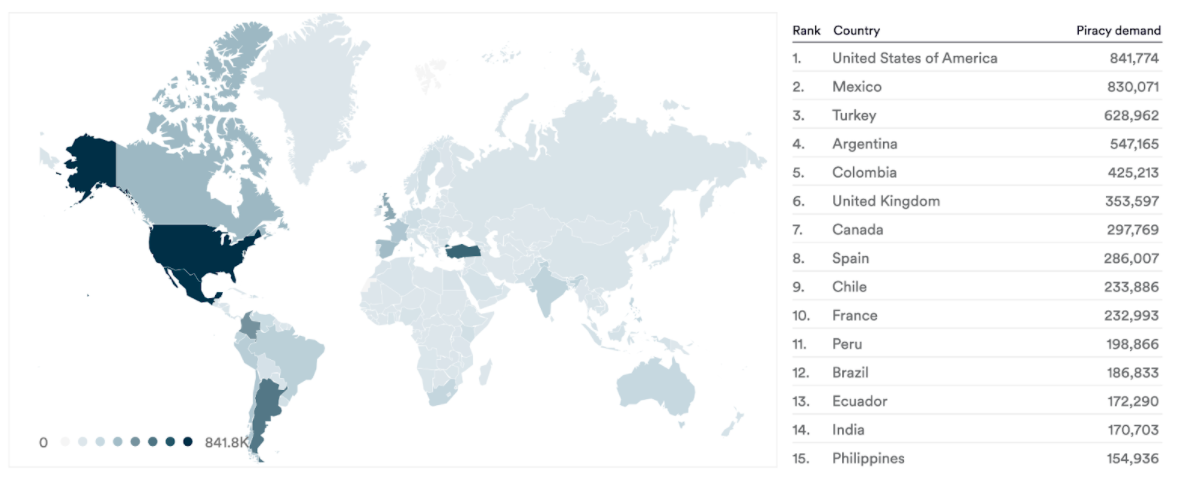 Invincible, Season 1. Torrents & Streams March - May 2021. Data from MUSO.com
Kate Winslet's drama Mare of East Town was the 6th most viewed title in MUSO's global TV piracy data. The title grew in popularity with the release of each new episode throughout the month of May.

Mare of East Town. Torrents & Streams May 2021. Data from MUSO.com
Unlike Invincible, where only 16% of piracy consumption was from the torrent network, 54% of demand for Mare of EastTown was via torrents, with only 46% coming from unlicensed streaming sites. The title was 4.17x more popular in the UK versus the global average.
The long-running medical drama, Grey's Anatomy (Season 17), continues to prove popular with piracy audiences and is the 11th most in-demand title in MUSO's May data.
Since the first episode was released in November 2020, Grey's Anatomy (Season 17) has had over 12.5m unlicensed downloads or streaming views, with 40% of these views happening in April and May alone. This indicates that the show became more popular as it headed towards the final episode which was released on June 3rd 2021.

Grey's Anatomy, Season 17. Torrents & Streams November 20 - May 2021. Data from MUSO.com
MUSO's piracy data reveals insight into the global consumption of over 160,000 films and TV titles. To find out more about how MUSO data is being used to drive marketing, content acquisition, commissioning and licensing please contact contact the team at hello@muso.com
ABOUT MUSO
MUSO is a data company that provides the most complete and trusted view of unlicensed media consumption and global piracy demand. MUSO's unrivalled dataset measures a vast high intent audience that is not influenced by licensing restriction or platform bias. Whether protecting IP or building winning content strategies, MUSO helps companies make better decisions that drive performance, ROI and value.