In this article, MUSO's data insights team highlights some of the trends observed in MUSO's most recent film piracy audience data.
The top 100 films in MUSO's August piracy data accounted for 267.5m unlicensed streams and torrent downloads globally, with Suicide Squad 2021 the most popular title.
The James Gunn directed movie featuring Margot Robbie as Harley Quinn accounted for 29% of piracy amongst the top 10 titles in the month.

Top 10 film piracy, torrents & streams, August 2021. Data from MUSO.com
Over 75% of unlicensed consumption for this title happened within 14 days of its August 5th VOD release with 72% of all piracy taking place on unlicensed streaming websites.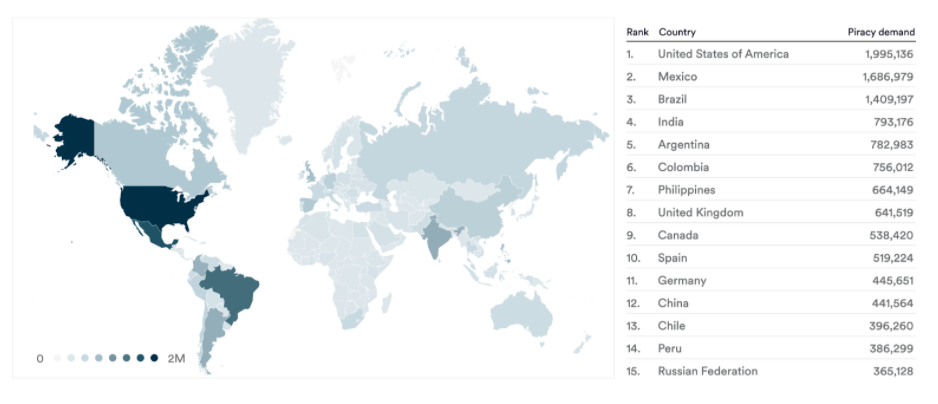 Global demand, torrents & streams, August 2021. Data from MUSO.com
MUSO's demand index enables a comparative view of title popularity between countries and regions. Snake Eyes: G.I. Joe Origins 2021, Jungle Cruise 2021 and The Green Knight 2021 are more popular in the United States than the global average when comparing global demand for the top 10 titles to demand in the United States.

MUSO demand index by title, global vs USA, August 2021. Data from MUSO.com
The Green Knight 2021 cost $15m to make and has the lowest budget of all movies in MUSO's top 10 most pirated films in August 2021.
The Arthurian fantasy film has proven popular with global piracy audiences, it is the 7th most in-demand release in August.
The largest one-day piracy spike occurred on August 19th, in the middle of its theatrical window, when a high-quality version of the film was made available on piracy sites. As a rule, MUSO sees low-quality cam-rip versions on piracy websites during a theatrical window. Most piracy spikes happen within the first few days of a VOD release when high-quality versions are available.
Although The Green Knight 2021 was not released on VOD until early autumn 2021, there was a one-off screening event in August, that allowed ticket holders to stream the film, with an additional Q&A session with the cast and crew. MUSO measured over 591,000 illegal streams and downloads within 24 hours of that event.

The Green Knight 2021, daily torrents & streams, August 2021. Data from MUSO.com
Animation genre film data features some big hitters such as Space Jam 2021, Luca 2021 and The Boss Baby 2021. The popularity of these films shines a light on the varying demographic profiles of the piracy audience.

Animation genre films, torrents & streams, August 2021. Data from MUSO.com
Animation is the 9th most popular genre globally in MUSO August data.

Film genres, torrents & streams, August 2021. Data from MUSO.com
MUSO's piracy data reveals insight into the global consumption of over 165,000 films and TV titles. To find out more about how MUSO data is being used to drive marketing, content acquisition, commissioning and licensing please contact the team at hello@muso.com
ABOUT MUSO
MUSO is a data company that provides the most complete and trusted view of unlicensed media consumption and global piracy demand. MUSO's unrivalled dataset measures a vast high intent audience that is not influenced by licensing restriction or platform bias. Whether protecting IP or building winning content strategies, MUSO helps companies make better decisions that drive performance, ROI and value.