MUSO's latest audience demand snapshot on film piracy offers a fascinating glimpse into the world of unlicensed film downloads, showcasing which titles are resonating with audiences globally. During the week of 6th to 12th November, a distinct mix of genres and stories dominated the piracy charts, revealing the persistent allure of both blockbuster films and genre-specific features in the unlicensed viewing sphere.
The chart below encapsulates global film audience demand from unlicensed file downloads for the week ending 12th November 2023.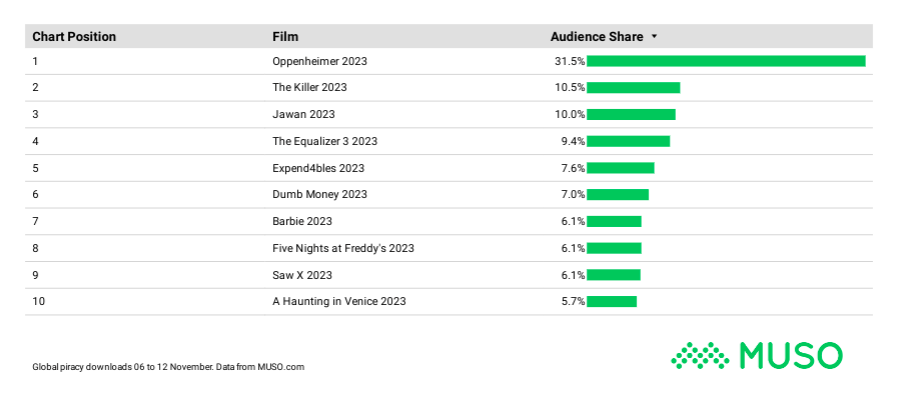 Key Insights
At the forefront of the list is "Oppenheimer 2023," with an overwhelming 31.5% audience share. The film saw a significant surge in demand catapulting it to the top spot following the 8th November, after a high quality Blueray version was released on download sites. This demand not only signifies the movie's massive draw but also reflects a potentially significant loss of revenue due to piracy. The high demand for pirated copies of such a prominent film suggests a challenge for the industry in ensuring the availability and affordability of content on legal platforms.
"Jawan 2023" and "The Killer 2023" follow with 10.5% and 10.0% of the audience share, respectively. These titles highlight the continued fascination with action and thriller genres, genres that traditionally perform well on piracy platforms, possibly due to their universal appeal and the high-octane entertainment they provide.
"The Equalizer 3 2023" and "Expend4bles 2023" claim their spots with 9.4% and 7.6% audience shares, respectively. The solid performance of these sequels further cements the notion that established franchises have a steady fan base that seeks out unlicensed avenues, potentially due to impatience with release windows or regional availability issues.
Interestingly, "Barbie 2023" also appears on the chart with a 6.1% share, underscoring the diverse demographic that engages in film piracy, from action enthusiasts to audiences looking for broader appeal or children-friendly content.
"Five Nights at Freddy's 2023" and "Saw X 2023" each with a 6.1% share, along with "A Haunting in Venice 2023" at 5.7%, indicate that the horror and suspense genres maintain a strong presence on piracy sites, aligning with the tendency for thrill-seekers to turn to unlicensed sources for their film experiences.
This data snapshot from MUSO is instrumental in understanding the dynamics of film piracy. It highlights not only the types of films that are being pirated but also reflects broader issues around access to content and the challenges of combating film piracy. As the film industry looks to combat this ongoing issue, such insights are vital in formulating strategies that bridge the gap between audience demand and legal content consumption, ensuring films are delivered to audiences through channels that are both accessible and legally compliant.