MUSO's comprehensive data on unlicensed audience demand reveals intriguing patterns in film and TV content consumption. Our latest audience demand snapshot, charting the top downloaded films globally, indicates a diverse range of genres capturing the audience's interest, with titles such as "A Haunting in Venice" and "Five Nights at Freddy's" leading the trend towards the end of October. Notably, new entries and sequels like "The Exorcist: Believer 2023" and action-packed "Jawan" also feature prominently, alongside established franchises.
The chart below encapsulates global film audience demand from unlicensed piracy websites for the week concluding on 5th November 2023.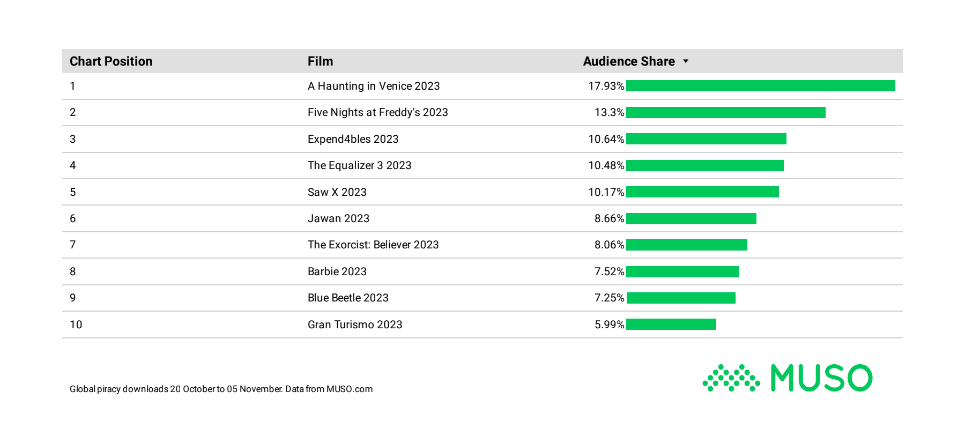 Key Insights
Dominating the chart is "A Haunting in Venice," securing a significant 17.93% of the audience share from the top ten downloaded movies. This not only illustrates the film's popularity but also hints at considerable revenue that may be lost to piracy. High piracy rates may indicate barriers to legal access or a preference for unauthorised sources amongst a portion of the potential audience.
Following closely, "Five Nights at Freddy's" holds a notable 13.3%, with "Expendables" not far behind at 10.64%. These figures underscore a continued preference for horror, action, and thriller genres on unlicensed platforms, suggesting these types of films resonate with viewers frequenting these sites.
The horror theme persists with "The Exorcist: Believer," garnering 8.06% audience share, which, like a Haunting in Venice, could be tied to its scheduling with the Halloween season, often a peak time for the horror genre. "Saw X" also maintains strong performance with a 10.17% share, demonstrating the enduring appeal of legacy horror franchises.
"Barbie" uniquely maintains a 7.52% share, which is quite significant for a film that premiered in cinemas earlier in the year. Its sustained demand through unlicensed P2P channels might indicate its absence from subscription-based streaming services or the prohibitive cost of premium rentals, reflecting a potential disconnect between distribution strategies and audience accessibility or affordability preferences.
The diversity in unlicensed demand is further reflected in the mix of films rounding out the top ten. Titles like "Blue Beetle" and "Gran Turismo" with audience shares at 7.25% and 5.99% respectively, showcase the broad appeal of different genres, including superhero and video game adaptations, on piracy platforms.
This data offers a valuable glimpse into the state of unlicensed film viewership, reinforcing the notion that piracy spans across all types of content. While the film industry continues to confront the issue of unauthorised distribution, insights such as these can inform more effective strategies to attract audiences back to legal content channels. It is imperative for industry stakeholders to recognize these trends and evolve, ensuring that films are available legally in a way that is both accessible and affordable to the diverse audience they seek to serve.