The pandemic has had a major impact on film releases, wiping out most of the films slated for 2020. The lack of a Joker or Once Upon A Time in Hollywood has cleared the way for a more diverse slate of movies to make it into the 2021 Academy Awards nominations. A varied list of titles like Promising Young Woman, Judas and the Black Messiah, Mank and Nomadland take up this year's nominations for the Best Picture category.
When comparing MUSO's piracy data for the Best Picture category at the Oscars in 2020 vs 2021 we can see a marked difference in piracy audience demand.

Best Picture nominations 2020. Streaming Oct 2019 to Feb 2020. Data from MUSO.com.

Best Picture nominations 2021. Streaming Oct 2020 to Feb 2021. Data from MUSO.com.
These two charts show piracy for the Best Picture nominations in 2020 and 2021 and clearly indicate significantly less interest in this year's titles compared to 2020, which given the lack of new releases over the last 12 months is perhaps not surprising.
Promising Young Woman has the most piracy to date but Judas and the Black Messiah had the highest single-day peak on February 16th, the film also had the largest overall streaming piracy demand in February.

Best Picture nominations 2021. Streaming Feb 2021. Data from MUSO.com.
Overview: Tenet
Although nominated for Best Visual Effects and Best Production Design at this year's Academy Awards, Tenet seems to have been glaringly overlooked. MUSO's streaming data shows high global piracy demand for the Christopher Nolan blockbuster; perhaps, one might argue, the missing Joker equivalent from this year's nominations.

Tenet. Streaming Jul 2020 to Feb 2021. Data from MUSO.com.
Top 10 Film piracy. Streaming Oct 2020 to Feb 2021. Data from MUSO.com.
Overview: Promising Young Woman
Promising Young Woman first premiered at the Sundance Film Festival on January 25th 2020 and was initially scheduled to be released theatrically on April 17th 2020, however the movie found itself on the long list of releases pulled due to Covid -19.
Piracy for this title started to spike on December 25th, the day of its theatrical release in the United States and continued to build through its VoD release on January 15 2021.


Promising Young Woman. Streaming Dec 2020 to Feb 2021. Data from MUSO.com.

Promising Young Woman top 10 countries. Streaming Dec 2020 to Feb 2021. Data from MUSO.com.
Windowing and Access
Despite Promising Young Woman's writer, director and producer Emerald Fennell and lead actor Carey Mulligan both being British, the title is not available to watch in the UK and at the time of writing is still listed as 'coming soon/ May'*.
When a title is not available in a country or region, the audience will find it via piracy because piracy is often driven by access; this is evident in social-media commentary:



This trend continues amongst titles in the Best Picture category. Remarkably, audiences in the UK are going to have to wait yet again. Five nominations are not currently available:
Minari:

2 April 2021

Nomadland:

30 April 2021

Sound of Metal:

12 April 2021

The Father:

11 June 2021

Promising Young Woman:

"coming soon"...likely May 2021*
Of these Nomadland and The Father are not scheduled for release until after the Oscars ceremony on April 26th.
It is a similar picture internationally, for example; Promising Young Woman is released in Argentina on April 8, Spain on April 16th, Germany on April 29th, France on May 5th and Sweden on May 14th.
Conversely, Judas and the Black Messiah was premiered at the 2021 Sundance Film Festival on February 1st 2021 and was simultaneously released in the United States in theatres and digitally on HBO Max on February 12th. The title is now available in most territories including the UK.
The Parasite Effect.
When the 2020 Best Picture winner, Parasite, was nominated for an Oscar, MUSO's piracy demand showed a massive increase for the title, peaking in both unlicensed streaming and P2P/torrenting on the night of the Oscars, February 10th 2020.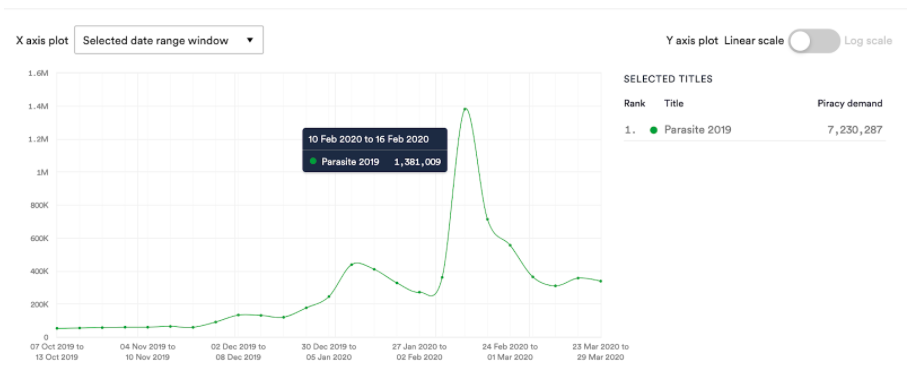 Parasite. Streaming Oct 2019 to Mar 2020. Data from MUSO.com.

Parasite. P2P/Torrent Jul 2019 to Jan 2020. Data from MUSO.com.
If Parasite, which was widely released prior to the Oscar ceremony on February 10th, experienced significant piracy after its nomination, MUSO data suggests that 2021's nominees will experience similar piracy demand. This demand will be magnified by the lack of availability in some countries.
It is hard to place a monetary loss on piracy, because of the many variables associated with each release, but assuming Promising Young Woman or the other nominated titles that are not widely available follows a similar trajectory to Parasite, then we might expect around 25-30m downloads and streams for these titles. At a $10-$20 ticket or VoD price, this is a lot of lost revenue due to a windowing decision.
Predictive Piracy Data
MUSO's piracy data is used across the movie ecosystem from content acquisition and commission to marketing insights and release strategies. It highlights demand, often where no other demand metric is available.
Covering over 145,000 film and TV titles, MUSO data enables detailed analysis of piracy audience demand.
To date, however, it has not yet been used to predict Oscar winners, so here goes.
Based on the momentum of piracy demand, this year's best picture will be a close-run thing between Judas and the Black Messiah and Promising Young Women. However it has been a year unlike any other and anything could happen!
Whatever the result, there will be a lot to learn from MUSO's piracy data about the impact of the different windowing strategies for these nominated titles.
To try MUSO Discover for yourself contact the team at hello@muso.com
*On 25 March it was announced that Promising Young Woman will skip a theatrical release in the UK and Ireland. The film will debut on Sky Cinema and the NOW streaming service in the territory on April 16.
ABOUT MUSO
MUSO is a data company that provides the most complete and trusted view of unlicensed media consumption and global piracy demand. MUSO's unrivalled dataset measures a vast high intent audience that is not influenced by licensing restriction or platform bias. Whether protecting IP or building winning content strategies, MUSO helps companies make better decisions that drive performance, ROI and value.