MUSO has already tracked over 38.5 billion visits to piracy sites in the first 3 months of 2021, a 6% increase over the same period year on year, measuring piracy consumption on over 145 thousand film titles and TV series in 242 countries and dependent regions globally.
MUSO's piracy data reveals a vast audience that arguably makes up the largest video-on-demand platform in the world. The following article examines how entertainment companies can harness this data to create actionable insights that drive up the value of their titles and services.
Monster Hunter (2020).
After various delays and changes to its release date, Monster Hunter, a film based on the Capcom video game of the same name, was released in China on December 4, 2020, followed by a digital release on February 16, 2021.
Monster Hunter has also proven a popular piracy title, amassing almost 7m unlicensed streaming visits since December 2020. It has also had over 3m torrent downloads since MUSO first detected a cam-rip (a cam-rip is a lower quality cinema recorded leak) on December 3, 2020, the day before its theatrical debut. The first major spike in piracy was on February 16, 2021, the day of its legal digital release.
As of April 2021, Monster Hunter had grossed $40.2 million worldwide. The piracy demand on Monster Hunter suggests a large unmonetised audience that may have significantly increased the legal worldwide box-office and VoD revenue on this title.

Monster Hunter. Unlicensed streaming. Dec 20 -Mar 21. Data from MUSO.com
In order to convert this demand into legal consumption, MUSO's data can be used to predict which countries and regions will most likely have the most demand well in advance of the release date. This enables better release and windowing strategies and creates new marketing opportunities for direct targeting of the audience for any specific title.
For example, piracy demand varies greatly, depending on genre, from country to country. When we analyse the unlicensed streaming demand for Monster Hunter we see a nuanced picture, with widespread global demand, but with the notable exception of Russia.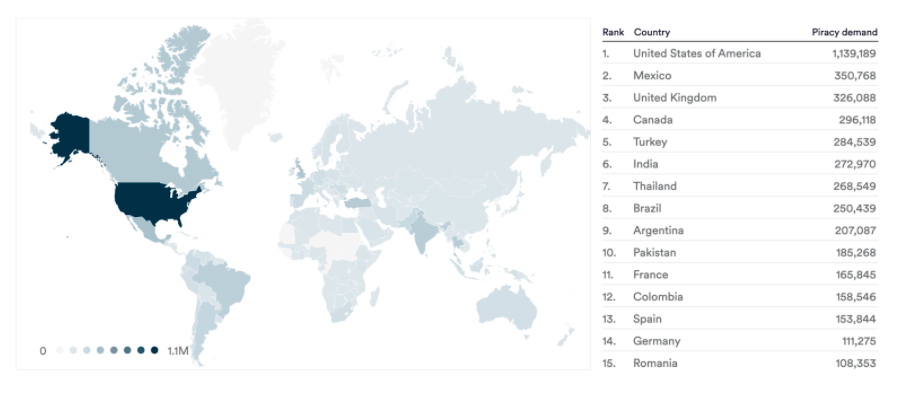 Monster Hunter. Country distribution, unlicensed streaming. Dec 20 - Mar 21. Data from MUSO.com
In fact, Russia is the least popular country for unlicensed streaming for Monster Hunter, being 7.93 times less popular in Russia relative to all films in MUSO's dataset for unlicensed streaming.
This is unusual when you consider that in the same period (December 2020 to March 2021) Russia is the third most popular country for film and TV piracy.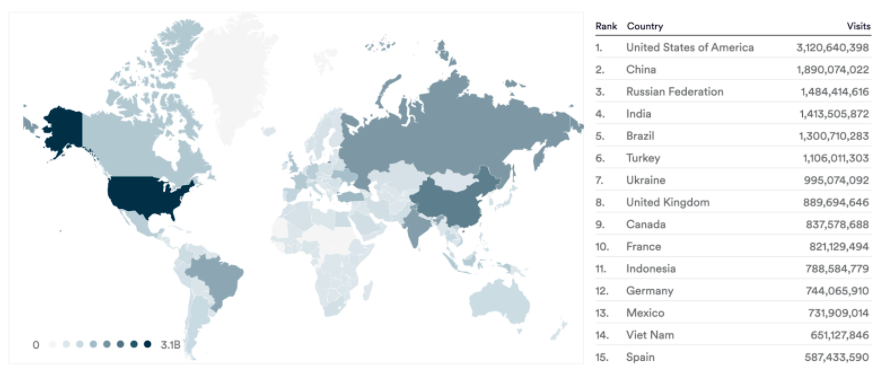 Global visits to film and TV piracy websites Dec 20 - Mar 21. Data from MUSO.com
However, when we analyse torrent downloads for Monster Hunter for December 2020 and January 2021, we can see that Russia is the 4th most popular country for this title.

Monster Hunter. Torrent downloads. Dec 20 - Jan 21. Data from MUSO.com
And once the digital version leaks in February 2021 demand for this title in Russia increases dramatically and the film tops the rankings for torrent downloads.

Monster Hunter. Torrent downloads. Feb 21 - Mar 21. Data from MUSO.com
This may indicate that Russian audiences want to own the title by downloading the film via a torrent versus viewing it via an unlicensed stream. In many ways, this reveals a more engaged and less casual viewer because torrents require more steps to download than unlicensed streaming sites, which are often available within one or two clicks.
Monster Hunter is categorised as Action, Adventure and Fantasy, so switching to a global view of torrent demand for those genres, we can see that only the Philippines and India rank higher than Russia.

Action, Adventure and Fantasy genres. Torrent downloads. Jan 21 - Mar 21. Data from MUSO.com
Used predictively, MUSO's data would have shown that Monster Hunter was a very likely candidate for high demand from Russia once the digital release was available for download and this could have been used to inform the digital release strategy for the title or securing a theatrical release, early window or an enhanced commercialisation strategy for that territory.
Conversely, when analysing the global demand for other genres such as Comedy, Family and Romance films for unlicensed streaming we see a very different geographical spread of demand.

Comedy, Family and Romance genres. Torrent downloads. Jan 21 - Mar 21. Data from MUSO.com
MUSO data can predict trends and future audience engagement by analysis of similar titles or similar genres, well in advance of release dates. This use of MUSO's data is being implemented by entertainment companies to inform release, windowing and pricing strategies internationally and regionally.
Palmer (2021).
Another title in high demand in MUSO's piracy data for the first quarter of 2021 is Palmer. The film, starring Justin Timberlake, was digitally released by Apple TV+ on January 29, 2021.
MUSO has tracked 630K torrent downloads and over 2.5m visits to unlicensed streaming sites for this title globally between January and March 2021.

Palmer. Unlicensed streaming. Jan 21- Mar 21. Data from MUSO.com
This Apple TV+ exclusive reveals an interesting geographical distribution, with Ukraine having over 90% more demand than the USA and many South American countries showing strong demand too.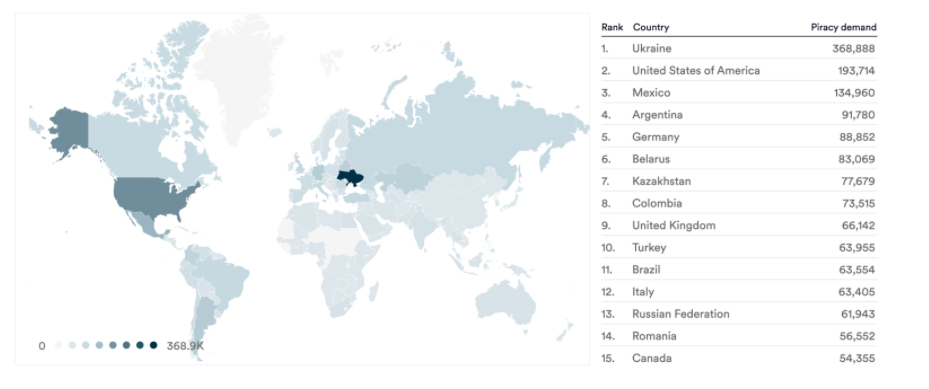 Palmer. Unlicensed streaming. Jan 21- Mar 21. Dat from MUSO.com
MUSO's data would allow Apple TV+ to map out and plan their marketing campaigns and to widen their customer acquisition for their SVoD service.
MUSO works with a number of streaming services to provide tailored target audience segments based on piracy audience data that powers their digital advertising campaigns.
These audience segments would allow Apple TV+ to specifically target potential new customers and drive more subscribers to their platform, based on their piracy consumption behaviours for example interest in Palmer and similar titles.
Master (2021).
Master is a 2021 Indian Tamil-language action thriller film written and directed by Lokesh Kanagaraj. Master was initially planned for theatrical release on April 9, 2020, but was postponed due to the COVID-19 pandemic. The film was finally released in theatres on January 13, 2021 and despite receiving mixed reviews It was the first Indian film to have occupied No 1 in the global box office at the time of release.
Although some way behind the piracy demand of Zach Snyder's Justice League, Master is in the global top 10 for unlicensed streaming film piracy in the first quarter of 2021 with over 2.6m visits to streaming piracy for this title.
Top Titles, unlicensed streaming. Jan 21 - Mar 21. Data from MUSO.com
The distribution is influenced by countries with larger Indian and Sri Lankan communities, such as the USA, UAE and the UK. Interestingly, while the population of Tamil speakers in countries like France and Germany is small, comparatively the demand for Master is very high in these territories, perhaps indicating increased global demand for Tamil content.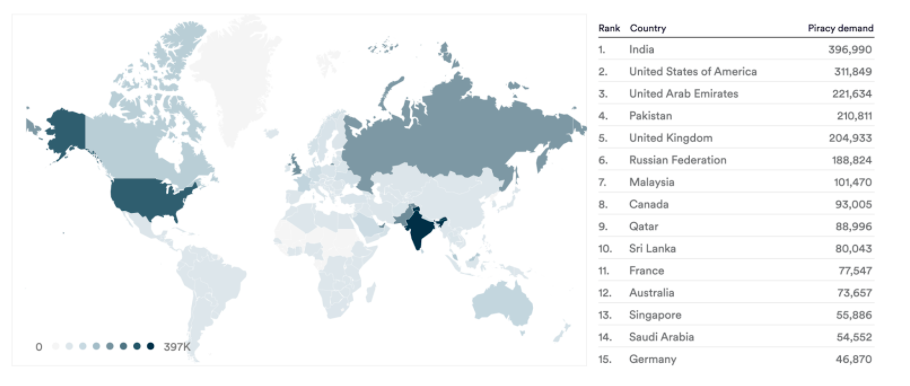 Top Titles, unlicensed streaming. Jan 21 - Mar 21. Data from MUSO.com
MUSO data has previously revealed similar demand trends for South Korean TV shows with wide international appeal outside of their legal distribution channels. This hidden global demand for regional content presents a very tangible opportunity for film companies and distributors to gain a first-mover advantage in acquiring titles. It also provides valuable data for rights-holders to leverage and increase the value of their films internationally.
MUSO's data reveals a vast audience of first movers and is providing immeasurable value to rights-holders and companies in the entertainment industry. MUSO's data offers rich and nuanced behavioural insights that are driving decisions from content commissioning, licensing and valuation to marketing, VoD subscriber acquisition, trend analysis and many other use cases.
To find out how MUSO Discover insights can help you drive better business decisions, contact the team at hello@muso.com
ABOUT MUSO
MUSO is a data company that provides the most complete and trusted view of unlicensed media consumption and global piracy demand. MUSO's unrivalled dataset measures a vast high intent audience that is not influenced by licensing restriction or platform bias. Whether protecting IP or building winning content strategies, MUSO helps companies make better decisions that drive performance, ROI and value.