MUSO's unlicensed audience demand data provides deep insights into demand for film and TV content. Our audience demand snapshot, showing the most downloaded films globally, shows that franchises including the Expend4bles, Saw X and the Equalizer 3 were among the most in-demand films at the end of October. Horror films also trended highly due to Halloween release schedules and Barbie continued to show high demand despite being released in cinemas in July.
The chart below shows a snapshot of global film audience demand from unlicensed piracy websites in the week ending 29 October 2023.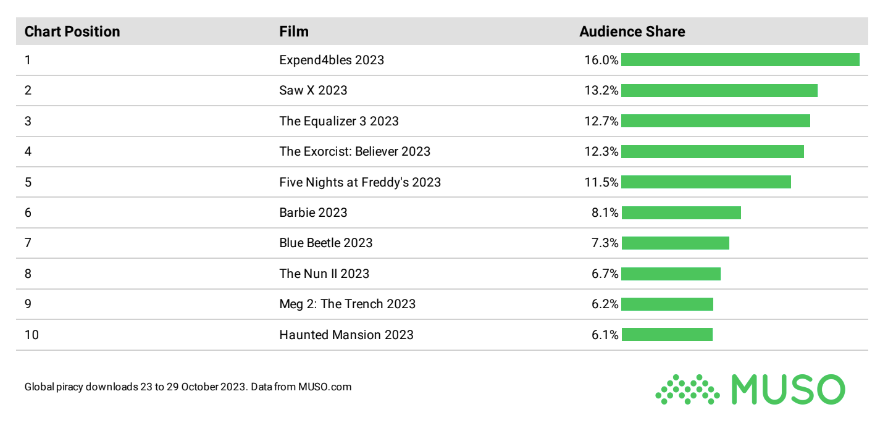 Key Insights
To begin with, "Expendables 2023" leads the chart, commanding a significant 16.0% of the total audience share. This dominance signals the film's popularity but equally underscores the potential revenue losses its creators might be incurring from piracy. Such high demand for pirated versions often indicates that a significant portion of potential audiences may be opting for unlicensed platforms over legitimate viewing channels.


Next in line, with an audience share of 13.2%, is "Saw X 2023", closely followed by "The Equalizer 3 2023" at 12.7%. These figures suggest that action and thriller genres and sequels continue to be highly sought-after on unlicensed platforms. Whether this is due to limited access to official releases, regional restrictions, or simply an ingrained habit among a section of the audience remains a topic for deeper investigation.


Diverse genres appear in the subsequent positions. Notably, "The Exorcist: Believer 2023" and "Five Nights at Freddy's 2023" hold a combined share of nearly 24%. This prominence of horror and suspense-themed films indicates their sustained popularity among unlicensed site visitors. One can infer that the thrill of horror might be linked to a Halloween release schedule as well as the adrenaline rush some derive from accessing content via unlicensed channels.


Interestingly, "Barbie 2023" stands out with an 8.1% audience share, in part because it was released in July 2023 and is continuing to show high demand nearly 6 months after its theatrical release and subsequent move to streaming platforms. However, this ongoing demand probably reflects the fact that the film is still only available as a premium on-demand offering on streamers.


It also highlights that unlicensed demand is varied and not only limited to young, male audiences. A diverse audience encompassing families, younger individuals, and individuals of different genders also turn to unauthorised means, possibly pointing towards gaps in affordable and accessible legitimate content distribution for such demographics.


Rounding off the top ten are "Blue Beetle 2023", "The Nun II 2023", "Meg 2: The Trench 2023", and "Haunted Mansion 2023", with audience shares ranging from 6.1% to 7.3%. These films, although varied in their thematic elements, solidify the notion that viewers are turning to piracy websites for a broad spectrum of content.


This snapshot provides an invaluable peek into the world of unlicensed film consumption. The eclectic mix of genres and titles accentuates the ubiquity of piracy across audience segments. While the film industry continues to grapple with this challenge, such insights can pave the way for targeted strategies to win back audiences to legitimate viewing platforms. The onus is on stakeholders to understand these trends and adapt, ensuring that content reaches its intended audience in an affordable, accessible, and legal manner.