MUSO, the leading content protection, data-analytics and piracy audience reconnection solutions provider, reveals nearly three-quarter of all visits to film & TV specific piracy sites in 2015 used web streaming as their method of consuming illegal content, highlighting a clear piracy audience trend change away from content 'ownership' using P2P/Torrents or web downloads.
These findings are from MUSO's Global Film & TV Piracy Market Insight Report 2016, released today and available for over 226 countries and dependent regions, which saw the company analyse global traffic from 14,000 of the largest global piracy websites, comprising of over 141 billion visits to these sites, and across 200m measured devices.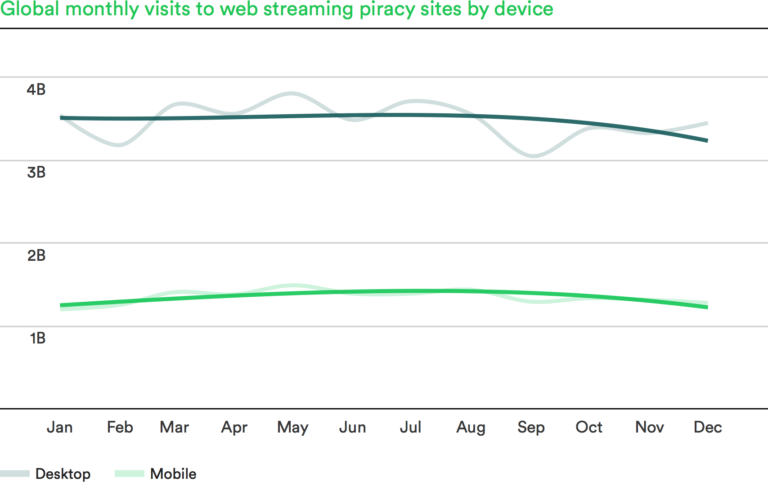 Out of a total 78.49bn film and television piracy site visits, 73.69% (57.84bn) were visits to streaming sites, with 72.07% of visits via desktop devices, indicating consumption of infringing video content via mobile devices remains low. With over 12% (9.86bn visits) of that global piracy audience from the United States, and with France, Germany and the UK all present in the top 10 countries globally by visits, the report highlights a piracy industry in transition, with strongly varying audience trends across different countries highlighting key opportunities, as well as emerging threats.
MUSO's annual report found that the second most popular piracy delivery type was torrents, capturing 17.24% of audience visits. Despite this high activity, torrents have seen an overall decrease by 18.98% from the first 6 months visits to the last 6 months visits in 2015. Torrent activity has heavily relied on desktop users (77.1%), yet has seen a trend change throughout 2015 of -18.96%. Mobile activity has seen a similar decrease by 19.02%.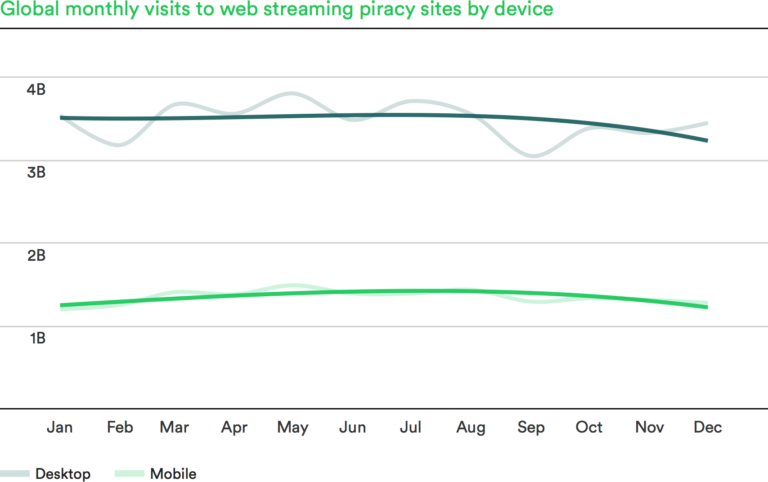 The company can also reveal that 2015 saw a slight increase from the first 6 months visits to the last 6 months visits of mobile download volumes by 4.93%. However, the usage of downloads has been relatively low, compared to torrents and streaming traffic, accounting for 8.38% of piracy visits. 2015 saw only a minor increase in download activity, with a growth of 0.21% from the first six to last six months of the year.
Read our blog: MEASURING ROI IN CONTENT PROTECTION: HOW VALUABLE IS ANTI-PIRACY?
MUSO's Global Piracy Market Insights Reports published for both music and film & TV markets, and the specific country-level insight reports are firmly established as the industry standard in global piracy audience trends.
Market Insights has a range of different products, from our trusted global insight reports released annually and each quarter, to highly specific small project needs, as well often providing ongoing technical consultancy support projects to evaluate and assess long-term goals, however abstract or technically challenging.
To find out more about MUSO's suite of piracy solutions, please visit Products.