In this article, MUSO's data insights team highlights some of the trends observed in TV piracy audience data from July 2021.
MUSO measured a 6% increase in visits to TV piracy websites in July compared to June 2021 with most traffic coming from the United States, Russia and China.
While popular TV shows like Loki S1 and Rick & Morty S5 are the most in-demand, MUSO has identified a trend of titles ranking highly with piracy audiences in territories where they are free-to-view.

Most popular TV shows, torrents & streams, July 2021, Data from MUSO.com
One of these shows is Love Island S7 (UK), which premiered in the UK on June 28th on free-to-view channel ITV2, the show was also available online on-demand via the ITV Hub. Despite this, it was the 9th most popular title in MUSO's TV piracy data for July 2021, with the UK being the third most popular viewing country for piracy audiences.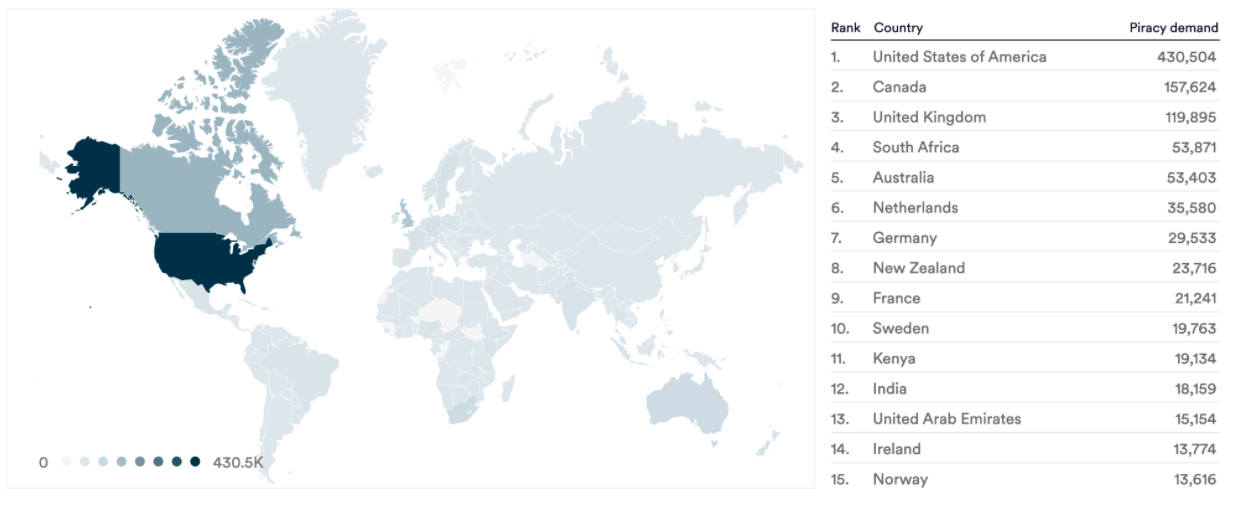 Love Island S7 (UK), torrents & streams by country, July 2021. Data from MUSO.com
The title was available legally via Hulu in the US on July 12th and available free-to-view on Now9 in Australia, another country featured in the top 10 most-in-demand ranking.
A recent poll by YouGov found that age is a dominant factor for this title, with 43% of the Love Island audience being under 30 and another 25% in their thirties. This may indicate certain audiences are forming viewing habits by choosing to watch TV and film content via unlicensed streaming websites as opposed to watching on a broadcaster platform or free-to-view channel.
The Flash Season 7, which premiered on March 2nd on the CW Network was the third most popular title in MUSO's piracy data with an 18% increase in unlicensed consumption in July vs June 2021.
The series, which is based on the DC Comics character Barry Allen / Flash, released its final and 18th episode on July 20th. Episode 1 had the highest demand with over 1.3m downloads and unlicensed streaming visits. The first five episodes have the highest individual one-day peak.

The Flash unlicensed streaming and Torrents, July 2021, delivery method. Data from MUSO.com
MUSO data indicates that piracy audiences are choosing to use unlicensed websites to watch titles that are available for free legally. This adds another dimension to the numerous studies and surveys which conclude that piracy audiences are driven by access as much as cost - indicating that audiences are also driven by ease of access and user experience. Indeed, the user experience at some piracy websites is now as sophisticated as any paid service.
The recent suspension of Neilsen's National Ratings Accreditation by the Media Rating Council highlights a longer-trend of changing viewer habits in a digital age and MUSO believes that unlicensed audiences should be a part of the future of media ratings.
MUSO's piracy data reveals insight into the global consumption of over 172,000 films and TV titles. To find out more about how MUSO data is being used to drive marketing, content acquisition, commissioning and licensing please contact contact the team at hello@muso.com
ABOUT MUSO
MUSO is a data company that provides the most complete and trusted view of unlicensed media consumption and global piracy demand. MUSO's unrivalled dataset measures a vast high intent audience that is not influenced by licensing restriction or platform bias. Whether protecting IP or building winning content strategies, MUSO helps companies make better decisions that drive performance, ROI and value.