MUSO's piracy data is widely used across the entertainment industries and provides deep insights into film and TV consumption. The data is used to inform anti-piracy strategies. It is used by studios and networks to better understand global audiences and content demand. It is used by talent agents to understand the impact on their clients revenues. It is used by cinema groups to maximise revenues. It is used by broadcasters and VoD platforms to identify titles for acquisition and commission. It is used as a currency to drive-up value of digital content and to maximise revenue and ROI.
This article examines some emerging trends observed in MUSO's most recent film data.
Analysing MUSO's overnight torrent and streaming data for July, Jurassic World Dominion 2022, Doctor Strange in the Multiverse of Madness 2022 and Thor: Love and Thunder 2022 were the three most popular titles in MUSO's film data.
MUSO measured the largest daily spikes in demand for the latest Jurassic franchise film on the 6th and 7th of July, a week prior to its official digital release on July 14th.

Top 10 films, June 26 to July 25, streaming & torrent. Data from MUSO.com
Data Overview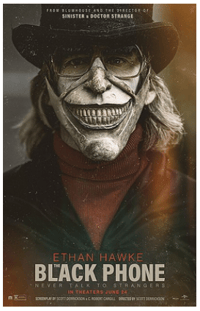 The Black Phone 2022, a supernatural horror film directed by Scott Derrickson and starring Ethan Hawke, over-indexes by 23% in the United States against global piracy demand and is the highest-indexing out of the top 10 most popular film titles. Significantly, 32.4% of all piracy demand for The Black Phone 2022 in July was from US audiences.
MUSO saw the largest one day demand for the title on July 14th, the day it was released digitally on Peacock. Between June 26th to July 25th The Black Phone 2022 accounted for 6.6% of total piracy within the top ten film titles.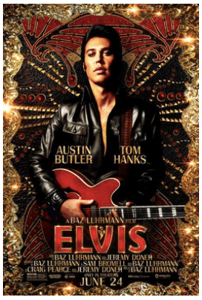 Elvis 2022 is the biographical musical drama directed by Baz Luhrmann. At the time of writing the film is still in its theatrical window and is due to be released digitally on HBO Max on August 8th, 45 days after its theatrical release. Early cam-rip demand data for the film, reveals that it is the highest over-indexing film in the United States, indexing 31% above global demand. We would expect to see strong demand for this title once the high quality release is available via piracy sites; this initial demand suggests that a longer theatrical window could have maximised further box-office revenues.
Nordic Cinema
While many of the film headline-grabbing stats are occupied by Hollywood productions, regionally produced film is very popular with piracy audiences.
MUSO's Discover data platform enables data analysis by multiple taxonomies and one of these is country of production.
The Uk and India are traditionally second and third to the US when measuring popularity by piracy demand, but we can uncover some important trends when we look more closely at the outliers.
Films produced or co-produced by Nordic companies (Sweden, Norway, Denmark, Finland and Iceland) do not rank highly, with only Swedish production companies ranking in the top 20 in 20th place globally between April to June 2022.
However, when we group together all films produced in the Nordic region, we can see some interesting collective trends; notably that Nordic cinema is more popular outside of the Nordics with piracy audiences.
Dual 2022, Black Crab 2022 and The Worst Person In The World 2021 show strongest demand over the past three months, with back catalogue hit Midsommar 2019 being consistently downloaded or illegal streamed.

Top 10 Nordic produced films, April to June, streaming & torrent. Data from MUSO.com
The Worst Person In The World 2021, the third most popular nordic film in this period, was released in March 2022. Critically acclaimed globally with a 95% score on Rotten Tomatoes, the film has seen 15% of its piracy demand from US audiences. There are no Nordic territories in the top 15 countries of demand for this title.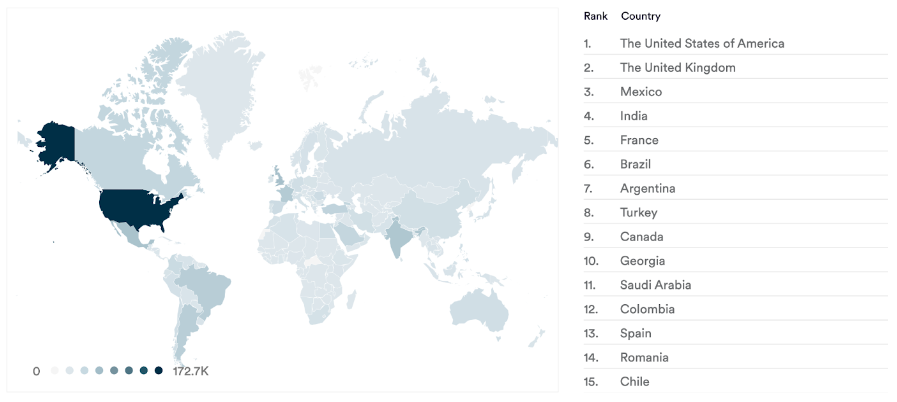 The Worst Person in the World 2022, demand by country, April to June, streaming & torrent. Data from MUSO.com
Neither Dual 2022 nor Black Crab 2022 have a single Nordic country in the top ranking countries for piracy demand. This pattern is repeated when measuring all of the top 10 Nordic produced titles as a combined view, with not a single Nordic country being included in the top 10, Sweden in the highest ranked country for Nordic cinema demand in 36th place.

Nordic produced film demand by country, April to June, streaming & torrent. Data from MUSO.com
One could be mistaken in thinking that piracy was not popular in the Nordic countries, but Nordic countries accounted for 937.4m visits to piracy websites between April and June 2022, equating to 37.5 visits per connected internet user in this region.
Our analysis suggests that the data points to a strong global demand for Nordic produced films that is perhaps not being fully maximised commercially.
MUSO's Discover dataset reveals consumption on over 325,000 Film and TV show titles in every country in the world. MUSO has measured over 105 billion visits to piracy websites in first 6 months of 2022. MUSO's data is transforming the way the entertainment industry is viewing digital piracy, by turning the cost of piracy into an opportunity to generate better revenues.
To find out more about how MUSO data is being used to drive marketing, content acquisition, commissioning and licensing please contact contact the team at hello@muso.com
ABOUT MUSO
MUSO is a data company that provides the most complete and trusted view of unlicensed media consumption and global piracy demand. MUSO's unrivalled dataset measures a vast high intent audience that is not influenced by licensing restriction or platform bias. Whether protecting IP or building winning content strategies, MUSO helps companies make better decisions that drive performance, ROI and value.