MUSO Co-founder & CSO Christopher Elkins shares his insights with BroadcastPro ME on COVID-19: Its impact on the media world.
As featured on BroadcastPro ME
Does the coronavirus pandemic paint a completely bleak economic picture or have new strategies and business models emerged from the situation? How have media companies benefitted from or been impacted by the lockdown, and how have industry leaders responded to it?
For audiences, disruption brings new opportunities for discovery. Now, as lockdown becomes the new normal, this seems to be the moment to press reset, seek out new shows and films and dive into older content missed the first time around.
All of this is playing out right now in the trends across tens of thousands of TV shows and films we're tracking.
Demand for all forms of content across the free, unlicensed global ecosystem MUSO measures has massively increased in dramatic and significant ways.
We reported the initial COVID-19 impact in February, as demand in China upped by more than 30% across just a few days. Data for March is now illuminating those trends globally, and specifically, ways in which they are changing. By genre, for instance, demand for family-oriented content initially rose – but what next? 2011's Contagion and this year's best-picture Oscar winner, Parasite, both saw huge rises in demand – 151.97% increase in piracy streaming visits from January to February and the latter saw a 240.04% rise during the start of the pandemic. Viewing habits have time-shifted – traditional weekend demand spikes now flattening through the working week for many regions. This is a trend we've already seen in MENA for March. Different genres are trending across different regions and with Ramadan, the world is looking to see how viewing habits of MENA audiences will evolve.
Broadcast and film businesses are responding and reacting in different ways internally to the data. Content acquisitions and commissioning teams are gearing around resources – initially the short term need to optimise scheduling. But now, these teams seem to be transitioning internal thinking towards recovery steps – production development and delivery post-COVID, and new content development opportunities emerging from its disruption. Data and the trends that are surfacing from it are crucially important in helping the industry to leverage short-term buying needs. But, more than that, it is the R&D and development work that will go some way to defining how quickly, and successfully, media businesses come out the other side.
Contact MUSO today to find out more about data driven content protection.
---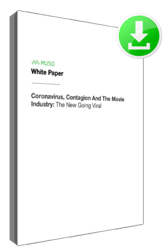 MUSO has published a new white paper; Coronavirus, Contagion And The Movie Industry: The New Going Viral. In this paper, we discuss the impact of the Coronavirus pandemic on illegal streaming, the movie industry and box office revenues. Download the white paper to find out more.
ABOUT MUSO
MUSO is a data company that provides the most complete and trusted view of unlicensed media consumption and global piracy demand. MUSO's unrivalled dataset measures a vast high intent audience that is not influenced by licensing restriction or platform bias. Whether protecting IP or building winning content strategies, MUSO helps companies make better decisions that drive performance, ROI and value.