The world is gripped by COVID-19 - the artist formerly known as the coronavirus - and whether you fall on the side of 'it's not as bad as the flu' or you're busily stockpiling for an impending zombie apocalypse, the one thing we can all agree on is that in three short months, COVID-19 is now having a significant financial impact on the global economy. When the US Federal Reserve suddenly slash interest rates as an emergency response, you know you're in uncharted territory.
The announcement to postpone the release of the latest Bond film 'No Time To Die', from April to November due to concerns over the coronavirus' impact on cinema, has made headline news around the world. It brings into sharp focus the falling box office revenues, especially where the virus has taken a grip. With all cinemas around the country closed, the Chinese film industry has already suffered a staggering $2bn in losses. In Italy, over half of all cinemas are shuttered. And in South Korea - the fifth largest cinema market in the world - reported box office revenues are down 80% year on year. If - as WHO and various public health bodies around the globe predict - we are only at the beginning of an internationally declared pandemic, this trend shows no signs of abating.
Inevitably, people will still want to watch the latest cinema releases, just not in an actual cinema but from the self-isolating comfort of their own home. And how will they do this? Step in from stage left: piracy.
Across the whole of 2019, digital piracy authority MUSO tracked over 174 billion visits to piracy sites. Piracy activity was already high; now it's about to go viral. And the pirates will be people who had hitherto never dreamt of illegally accessing entertainment.
The general fear and uncertainty surrounding the COVID-19 means a trip with the kids to the movies to see Sonic The Hedgehog becomes less appealing (not certain how appealing that was anyway) in the current climate. But a quick trip to the Internet and a few clicks later there's our friend Sonic The Hedgehog, streaming in over your home entertainment system. Kids happy, virus averted.
Non-traditional piracy users who stumble upon their first site may not even be aware that it is a piracy site, but when they discover they can watch 1917, The Invisible Man, Jojo Rabbit, Birds Of Prey and everything else they may have wanted to watch - and it's free! - there'll be no going back. Who knew Sonic The Hedgehog could be a gateway drug to piracy?
It's long been known that the whole movie ecosystem suffers huge economic losses from piracy, but conversely, there is also significant gain from understanding this audience's behaviour. Which films are popular and where; what genres should be commissioned; what films to buy and what data to leverage negotiations, inform marketing plans and audience activation, to name but a few.
Piracy is a level playing field. No walled data-garden, no exclusivity, no windowing and no theatrical release. It's all there: consumption with no barriers.
Just as the data shows staggering amounts of demand, it also shows emerging trends. Take Steven Soderbergh's 2011 film Contagion for example, where a mysterious virus starts in Hong Kong and spreads throughout the world. As news of COVID-19 escalated, we saw something interesting.
Way back on July 1st 2019, MUSO tracked 29 visits to streaming sites globally for Contagion. Not exactly an in-demand title by anyone's standards. On January 7th 2020, when Health Officials announced they had identified the coronavirus, demand for Contagion had increased to 546 visits. But by January 30th 2020, when the coronavirus was declared a global emergency, visits to streaming sites for Contagion increased to 30,418 on that single day alone. Although not an especially high number compared to the piracy numbers for blockbuster titles, the average daily visits for Contagion increased by an astonishing 5609% in January 2020
The days ahead are uncertain for all of us. Current forecasts estimate a $5 billion loss for the movie industry due to COVID-19, but as no-one knows how long this will continue we don't know just how big the losses might be. Especially if a global pandemic is inevitable and countries like the US and India see their cinemas close in an effort to contain the spread of infection. One thing we can be sure of though is that people will find a way to watch what they want to watch, and that piracy is going to go viral like never before.
Contact MUSO today to find out more about data driven content protection.
---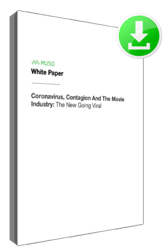 MUSO has published a new white paper; Coronavirus, Contagion And The Movie Industry: The New Going Viral. In this paper, we discuss the impact of the Coronavirus pandemic on illegal streaming, the movie industry and box office revenues. Download the white paper to find out more.
ABOUT MUSO
MUSO is a data company that provides the most complete and trusted view of unlicensed media consumption and global piracy demand. MUSO's unrivalled dataset measures a vast high intent audience that is not influenced by licensing restriction or platform bias. Whether protecting IP or building winning content strategies, MUSO helps companies make better decisions that drive performance, ROI and value.