Recently released MUSO data may well foreshadow a coming trend for global piracy. On January 23rd 2020 the Chinese authorities announced the start of the Wuhan lockdown due to the Coronavirus and by January 25th over 50 million people in China were affected by the restrictions.
MUSO's Piracy By Industry data-set, which provides a global month-by-month view of piracy, tracked over 174 billion visits across 2019 and has released data for February 2020.
Compared to other countries MUSO has a restricted view of China, due to The Great Firewall, however, we are starting to see some interesting trends emerging that point to a rise in piracy activity in China during this period.
Our data shows that film piracy visits increased by 89% from January 18th to January 26th, the day after Chinese New Year and when the news of the pandemic was starting to spread globally.
Overall we saw a 12.21% increase in China when measuring average daily visits from January to February.
We saw an average daily visit increase of 6.05% for film torrent from January to February, public torrent piracy makes up 60% of total film visits in China.
We saw similar trends in South Korea, with a 7.21% increase in film torrent visits when measuring average daily visits from January to February.
Globally, we measured a significant increase of 36.39% of average daily torrent downloads from January to February.
When we start to drill down into specific titles we see some interesting trends emerging as well for China from Jan to Feb 2020:
Contagion 2011 - Streaming visits increase of 151.97%
Parasite 2019 - Streaming visits increase of 359.91%
Pandemic 2013 - Streaming visits increase of 240.04%
As of the end of March 2020 more than a third of the world's population is in lockdown as more countries follow China's lead in fighting the spread of the virus. Working from home and social distancing has become the new normal, it's no surprise that digital services are booming, Netflix even lowered the bandwidth in Europe to cope with demand.
MUSO tracked 11.2 billion visits globally to piracy sites in Feb 2020, but with so many cinemas now closed globally and demand for content high, if MUSO's Chinese data is a barometer of piracy consumption to come then we would expect to see a continued rise in piracy activity for the rest of the world as more countries enforce COVID-19 lock-downs.
Contact MUSO today to find out more about data driven content protection.
---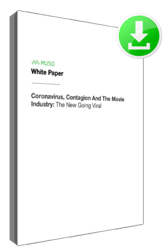 MUSO has published a new white paper; Coronavirus, Contagion And The Movie Industry: The New Going Viral. In this paper, we discuss the impact of the Coronavirus pandemic on illegal streaming, the movie industry and box office revenues. Download the white paper to find out more.
ABOUT MUSO
MUSO is a data company that provides the most complete and trusted view of unlicensed media consumption and global piracy demand. MUSO's unrivalled dataset measures a vast high intent audience that is not influenced by licensing restriction or platform bias. Whether protecting IP or building winning content strategies, MUSO helps companies make better decisions that drive performance, ROI and value.