Protect your valuable content
MUSO Protect is the best-in-class automated content protection system.

Powered by advanced technology and underpinned by MUSO's unrivalled analysis and categorisation of the piracy ecosystem, MUSO has protected content for some of the world's largest rights holders in the media industry for over a decade.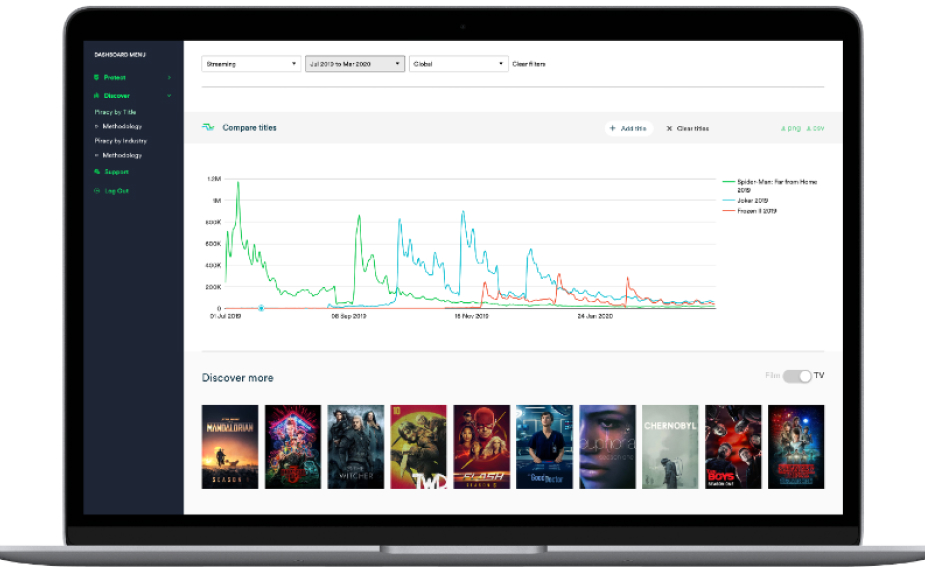 Comprehensive protection across the ecosystem
Automated 24/7 detection and removal of pirated content

Scanning over 4,500 piracy sites concurrently

Over 36 billion pages constantly scanned

Includes: cyberlockers, web downloads, public and private torrents, stream ripping, streaming sites and others

Search engines delisting
Grey market, social media and UGC sites

Removal status automatically checked every 2 hours

Live infringement activity reporting from the dashboard
Recorded audit of all takedowns sent and removed

Live customer support

Pricing tailored to your needs
MUSO Protect data enables you to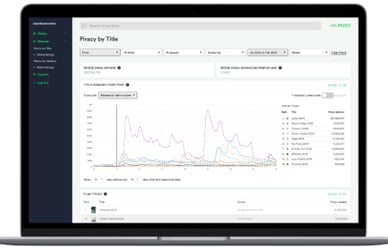 View every infringing link by domain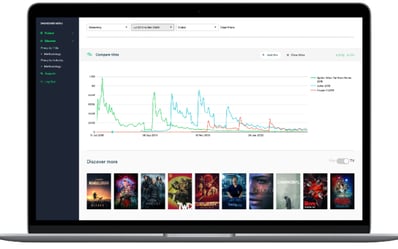 See all of your titles by removal status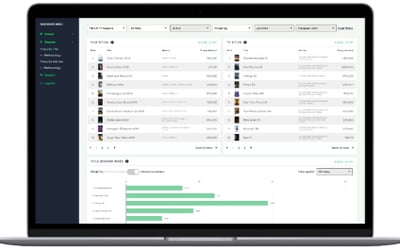 Report infringements on specific sites
MUSO Protect works across multiple media sectors:
Client Case Study: TV & Film. Removal of Infringing Content.
Client Challenge
A large rights-holder suffered a leak of a flag-ship TV Series. Having previously experienced the impact of piracy on unprotected content, they needed to take immediate action and contacted MUSO.

The Solution
MUSO's technology enabled instant searching across more than 25 billion piracy web pages as well as search engines, social media and user-generated content sites.

The Outcome
This resulted in the removal of over 500 illegal files, over 8,500 search engine delistings and over 600 social media and UGC links (Reddit, Twitter, Facebook, YouTube etc) within the first 24 hours from that initial contact.
Get in touch
Start protecting your content today. Get in touch and one of our expert team will get back to you as quickly as possible to discuss your requirements.
Download our latest white papers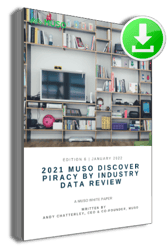 2021 MUSO Discover Piracy By Industry Data Review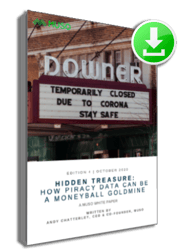 Hidden Treasure: How Piracy Data Can Be a Moneyball Goldmine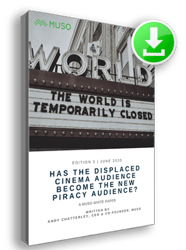 Has the displaced cinema audience become the new piracy audience?
Find out about MUSO's range of data products designed to maximise the value of your digital IP.

MUSO DISCOVER
Unlock deeper audience insight with MUSO's unrivalled piracy demand data.

MUSO CONNECT
Target untapped, high intent consumers through unique audience segments.